A Beautiful Pair of Antique Platinum & Gold Old Mine Cut Diamond Earrings
A new acquisition, a pair of antique platinum and yellow gold Old Mine Cut diamond dangle earrings halo'ed by 40 tiny step cut calibrated rubies and a second row of 44 tiny Old European Cut diamonds. The two main Old Mine Cut diamonds are estimated at approximately 2½ carats total weight. Their respective weights were based on their measurements 6.10×6.10×4.00mm. Additionally, the earring are being held by a pair of 0.60 carat total weight Old European Cut diamonds.
Based on our estimation (mounted earrings), we conservatively *estimate the quality of the Old Mine Cut diamond at near colorless (IJ color) mildly noticeable in the profile view only and nice eye-clean SI1 clarity. We find the diamond was cut to correct proportions justifying the bright appearance and beautiful play of light these antique diamonds display.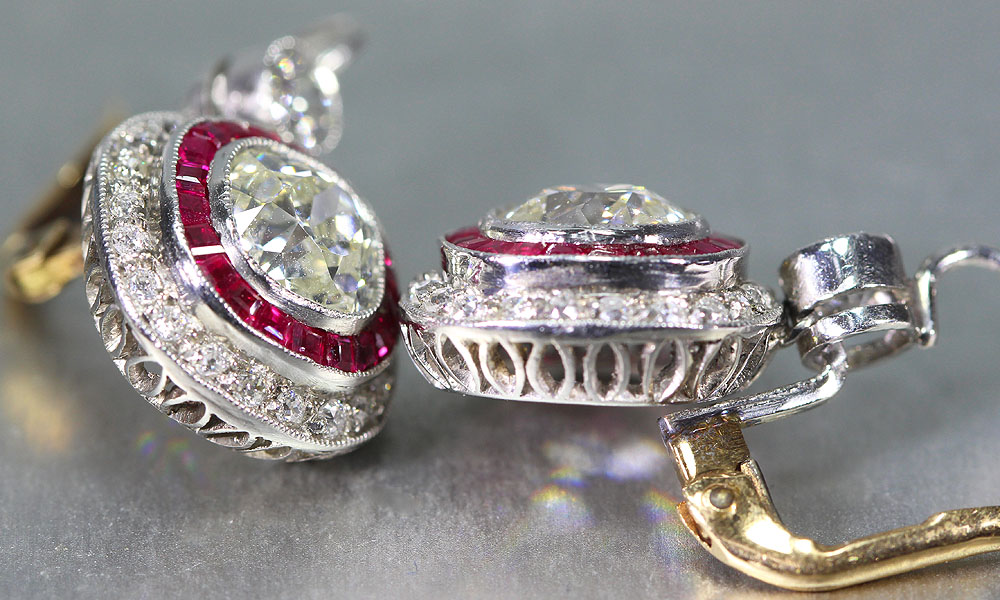 *Estimated details:
A pair of Antique Old Mine diamonds, weighing approximately 2.50 carats total weight
44 Old European Cut Diamonds, approximately 0.44 carats total weight
40 step cut rubies, approximately 0.80 carat total weight
2 Old European Cut diamonds, approximately 0.60 carats total weight
Total weight diamonds & rubies: 4.34 carats approximately.
Platinum & gold: 5.40 grams
Price: USD 16,500
*Based on the mounted jewels.