Exclusive Pinky Rings of Character
A Personal take before we delve in…
Those who have been following me through the past years and are familiar with my work know I have been active in the diamond industry for quite a few decades.
In my beginnings I practiced what most diamond cutters & dealers do which was dealing with mainstream diamond cuts and designs.
Towards the end of the 1st millennium (circa 1996), I found myself searching for more meaning and was longing for some real change professionally. I was searching for a more passionate meaning, I needed to explore and discover much more than I was doing at the time.
More ways of designing, cutting and ways to express my creativity, just some more….
I found myself drawn to explore and learn the old and not just new diamond cuts, understanding their light behavior within and learning how to optimize their offerings to accommodate various lifestyles and tastes.
Working alongside some of the most prominent 20th century jewelers helped me further understand jewelry and their functionalities. Learning how to accommodate them and their design dreams filled my knowledge through the whole spectrum of jewelry design.., from the actual cutting of the gems to the ability to bring such design ideas to life. The marriage of stones and metals.
By exploring the past. Historic diamonds, gems and jewelry. This led me to move forward with my ability to design new.., and start to offer new…
New Diamond cuts
New Gemstone combinations
New Jewelry designs and ideas
All this brings us to where we are today, I am inviting you to discover my journey which developed my exclusive pinky ring design.., after all, it's just a palette for more beautiful rings to come.
Introducing: Character Pinky Rings
Sometimes in early 2017, I was brainstorming with a colleague of mine, actually a great jeweler, about an idea for a pinky ring, after some good drinks and a "very" rough drawing, an idea was born.
We took this idea to our drawing board…, the computer of course. We kept on tweaking the design until we figured out our base.
After a few more nightly meetings and some drinks too I suppose, a design was born.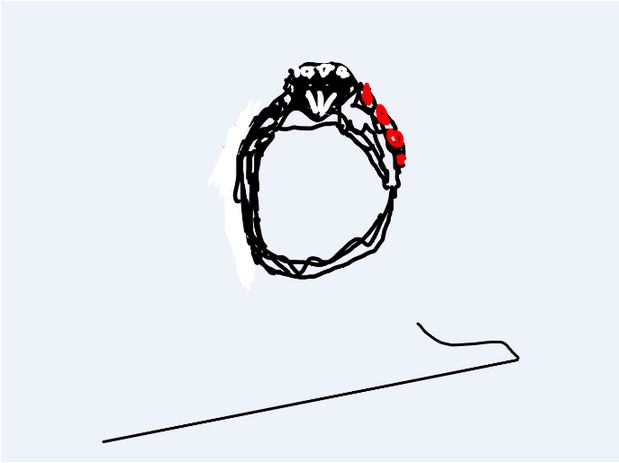 First Ring
A new design concept exclusively for pinky finger rings, firstly a small and dainty ring purposely designed solely to comfortably fit a pinky and to act as a design base palette for many possible gem adornment possibilities. The sky's the limit creative wise.
Designed to display its potential gem adornments on the correct side of this innovative unidirectional shank, a unique asymmetric design which allows its wearer to present its uniqueness by letting viewers visually enjoy the gem embellishments from the top of the finger down to its side where usually just a metal band is visible.
We kept tweaking the design taking into consideration the ring finger next to the pinky finger. What makes this an exclusive Pinky Ring design. Another consideration was to be able to offer a low profile ring comfortable enough to allow the wearer freedom for everyday wear but without any gem compromises, a concern I hear a lot about.
First we developed a prototype in 18Kt Red Gold set with an natural flat old cut ruby at its off-centered position (top, leaning to the side), we then delicately set (just) one side of the shank with our exclusive multi colored calibre cut French Cut diamonds which will never be visually blocked by fingers. The result, a delicate dainty Pinky Ring with it's gems always fully exposed for the viewers enjoyment.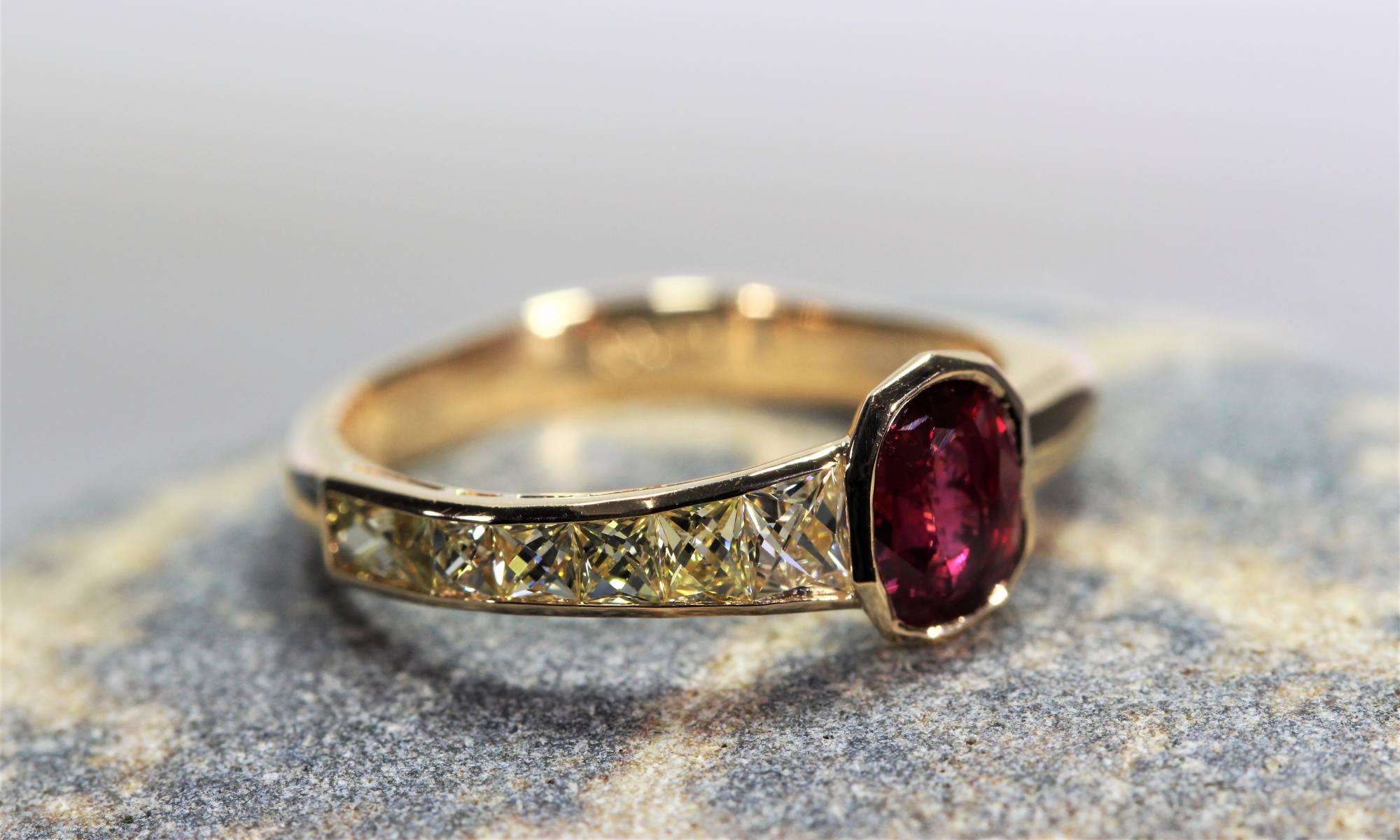 Second Ring
For our second Pinky Ring, we chose a more intricate and architectural design. We selected a high quality albeit flat antique Colombian emerald for its center, and flanked it with specially designed & precision cut pure colorless, icy calibre cut French Cut diamonds which taper down one side of the shank, again, the correct side.
For this ring we had a specific optical objective, we wanted to allow the wearer & viewers full visual enjoyment reflecting the unique beauty such French Cut diamonds display to their fullest. We developed our unique braided setting technique for this purpose, a specially engineered setting independently fitting each individual French Cut diamond which allows a secure fastening while allowing a full view of the French Cut Diamonds.
French Cut diamonds are famous for their Art Deco character and feel within their three dimensional play-of-lights. The unique braided settings allow for a clear unobstructed view from all directions the French Cuts are viewed upon and to showcase the various optical light plays each position offers. We specifically chose platinum as metal to bring out the pureness from both the Colombian emerald and diamonds.
Third Ring
The third pinky ring took us again towards a new direction. Since low profile ring designs are a desired practicality, we selected a very unique & rare Portrait Cut diamond as centerpiece. The roots to Portrait Cut diamonds originated in the antiquity periods, such diamonds were mostly very flat and great at covering miniature portraits.
Portrait Cuts usually consisted of two parallel tables acting as a window covering the miniature paintings from mishaps. Such cuts usually possessed two parallel faceted borders contouring the tables which further allowed a subtle play-of-lights when in movement.
As for gem embellishments we chose to custom design and cut a very unique calibrated diamond ensemble crafted to our exclusively designed Table Cut diamonds, another tribute to an old lost antique diamond design. We added an optical surprise, actually all our Pinky Rings will offer a pleasant optical treat.
For this design we again specially constructed our exclusive braided settings and utilized a natural colored 18Kt gold as selected metal, we do not rhodium any of our metals as we believe the actual color of the gold is unique and very complimenting to the gems and diamonds used.
Anecdote…, about two years ago, I had a meeting with a good friend who also practices as an IP attorney. I showed and explained the design to him. From that day on, he was constantly attempting to convince me to patent the designs (both utility & design patents) based on their functionality potential.
I did put some thinking into the idea, but kept reminding myself that patents are not my cup of tea and where I already got burned in the past! So here it is, an introduction to our new and exclusive designed Pinky Rings, a sort of "defensive publication" on my part.
These first rings are just a taste of its potential, we will be slowly adding more rings. Private commissions are welcomed.
Feel free to Contact me so we can design your new pinky ring together.