T
wo uniquely matched Old Mine Pear Diamonds
This unique "old charm" pair of Old Mine Pears was just completed and arrived from our cutting facility. As the saying goes, "good things come in small packages", this pair really reflects this.
This beautiful pair weighing just under three quarters carat total weight displays significant real estate for its weight, measuring a respectable 6.00 x 4.10 x 1.90 mm. each means this pair was cut from ultra flat rough Diamonds. We designed & cut this pair to special proportions allowing them to display a wonderful old charm play-of-light at a total depth of 47% (usually pear shape hover around >60% total depth).
They are not perfectly matched as expected from antique styles but they genuinely complement each other and will with no doubt play a perfect role as side stones to elevate any classic cut centerpiece, be it a Diamond or colored gemstone.
We have graded them near colorless (H-I color) and VS in clarity. Both possess the old cut flair by exhibiting rounded tips and a open culet showing the kozibe optical effect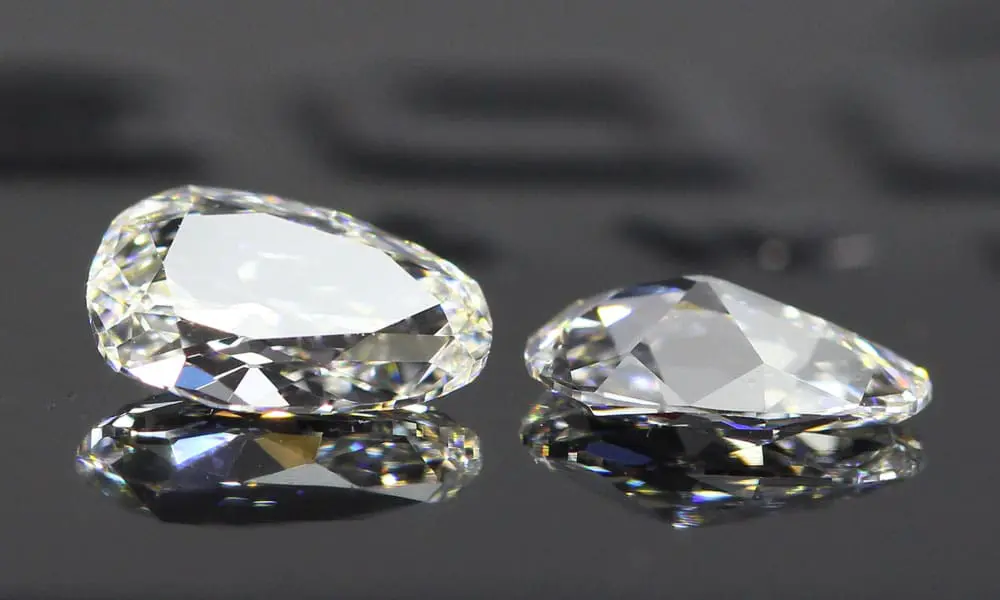 On non-Laboratory graded Diamonds we try to relay our grading estimations as realistic as we can, any client who wishes to have the Diamonds graded by GIA Laboratories we will be happy to submit for grading.
We are aware that gemological information is important to our clients so we offer grading reports as a supplement only. We do not guarantee any of its gemological conclusions or grading.
Our grading findings:
Total weight (pair): 0.696 carats
Shape: Old Mine Pears
Dimensions: 6.00 x 4.10 x 1.95 mm.
Color: H-I
Clarity: VS
Ratio: 1: 1.46