Peruzzi Diamond™️ Old Charm Trio
"—The Brilliant. …it is said to be the crowning invention in the art of diamond-cutting. It was due originally to Vincenzio Peruzzi, of Venice; a city which was, in his time, the chief seat of the Diamond trade."
Edwin W. Streeter, 1898, sixth edition, Precious Stones and Gems.
Our reinterpretation of what history identifies as the first brilliant cut Diamond dated back to the second half of the 17th century. We are offering this unique three stone suite of matching Peruzzi Diamonds cut to the faceting, shape and proportions of the early versions as documented in numerous important historical gem books.
The center gem, a colorless 1.81 carat Diamond which was crafted from a chosen, beautifully limpid rough crystal. It's blue fluorescence adds to its mysterious allure, a welcomed phenomenon which would have been easily referred in the old days as a Diamond of first water. The transparency combined with its the cut gives this Diamond a beautiful glowing effect reminiscing some of the finer colorless materials from the old days.
Flanking the center are a matching pair of colorless half carat each Peruzzi Diamonds cut to the same faceting and proportions as the larger Diamond. The three Diamonds together exhibit a beautifully patinated appearance which reveals its unique old feel charm. Their three dimensional sculpture effect create a visual of the Diamond as if they are popping out from their settings, a beautiful and unique treat for any engagement ring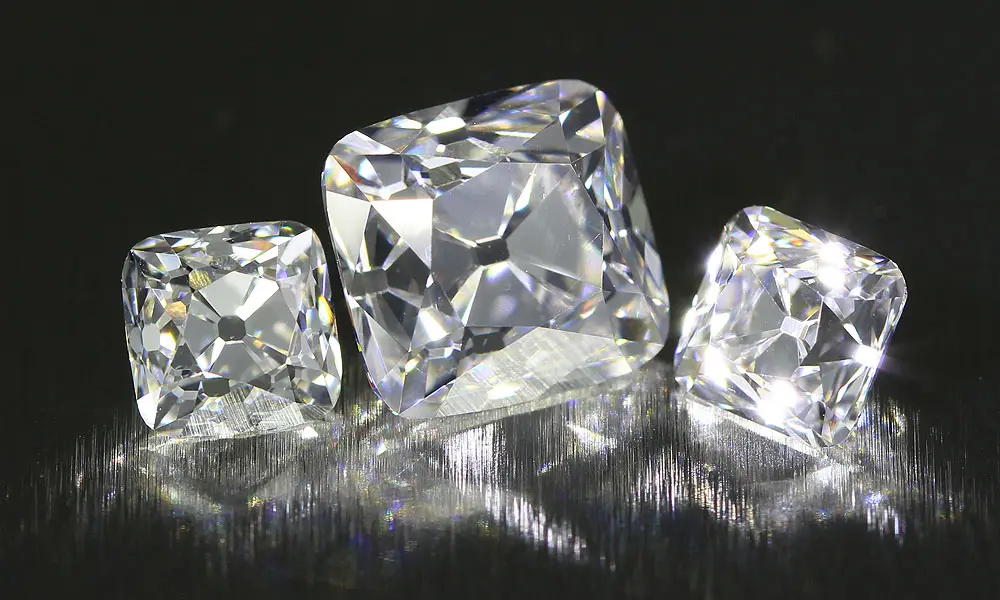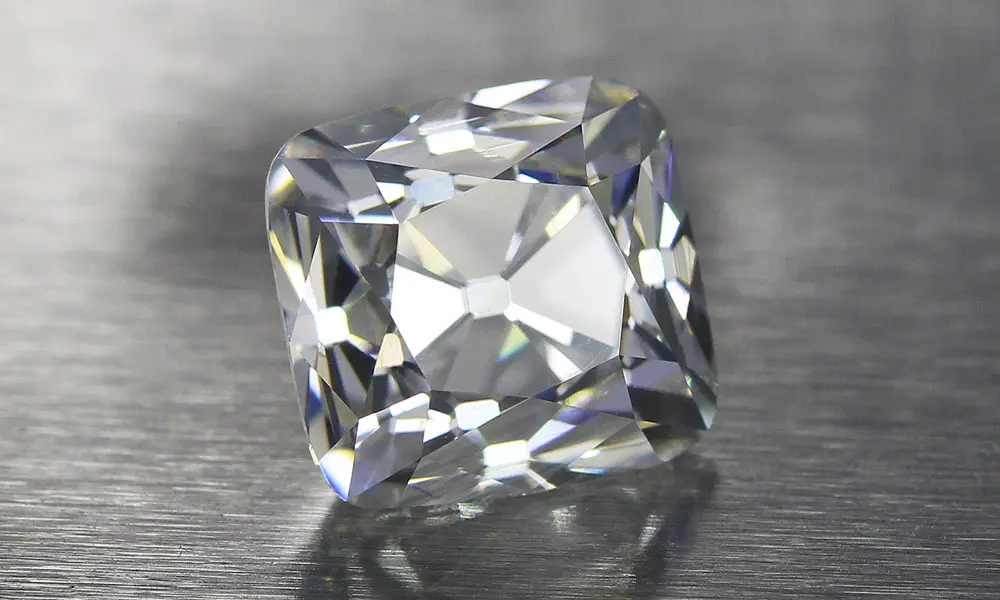 Our motto is to bring to market beautiful, unique and specialty cuts. Our Gem descriptions try to let you envision the beauty of the Gem and its attributes. We are aware that gemological information is important to our clients so we offer grading reports as a supplement only. We do not guarantee any of its gemological conclusions or grading.
Center:
GIA gemological findings:
Report No: 7251782838
Weight: 1.81 carat
Shape: Square Modified Brilliant
Dimensions: 6.84x6.51x5.16mm.
Color: D
Clarity: VS1
Sides:
Report No: 1263738314
Weight: 0.53 carat
Shape: Round-Cornered Square Modified Brilliant
Dimensions: 4.45x4.31x3.44mm
Color: D
Clarity: VS1
Report No: 6265379909
Weight: 0.52 carat
Shape: Round-Cornered Square Modified Brilliant
Dimensions: 4.46x4.37x3.39mm
Color: G
Clarity: VS1
Total Weight for the suite: 2.86 carats