Pair of slightly elongated Asscher Cut Diamonds
A rare and beautifully cut pair of slightly elongated Asscher Cut Diamonds weighing each a respective 0.368 & 0.361 carat. This pair was cut to a unique vintage faceting design and more importantly proportions mimicking the larger important Asscher Cut Diamonds popular during the Art-Deco Era.
Such Diamonds were popular for their distinct geometrical appearances. As with all our Asscher Cuts, this pair also carries the higher than usual crown height, small table, proportionally wider step facets and corner breaks which are responsible for its unique visual which is intensified in such small sizes. Its uniqueness and old charm character is clearly noticeable.
No doubt this pair can compliment both a Diamond and/or a colored Gemstone centerpiece which are usually cut with higher crown heights.
Each Diamond measuring 4.19x3.85mm & 4.15x3.90mm, It's facet design and proportions present a unique endless "hall of mirrors" appearance thanks to its elegant 1:1.08 ratio. A completely different look and feel compared to visuals current modern Asscher Cuts/ squarish emeralds offer.
This pair was graded by us as colorless with a wonderful limpid and transparent crystal.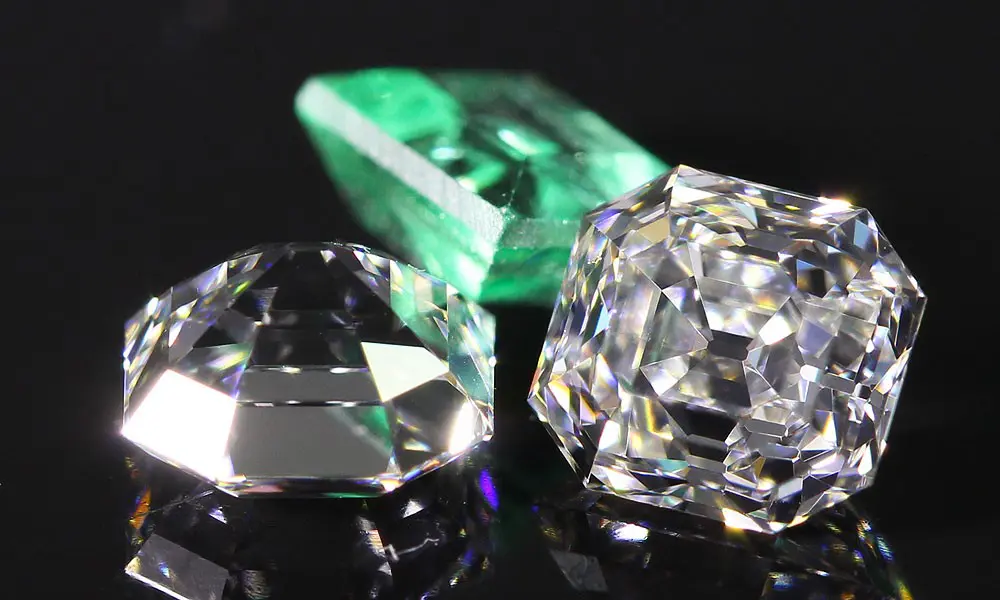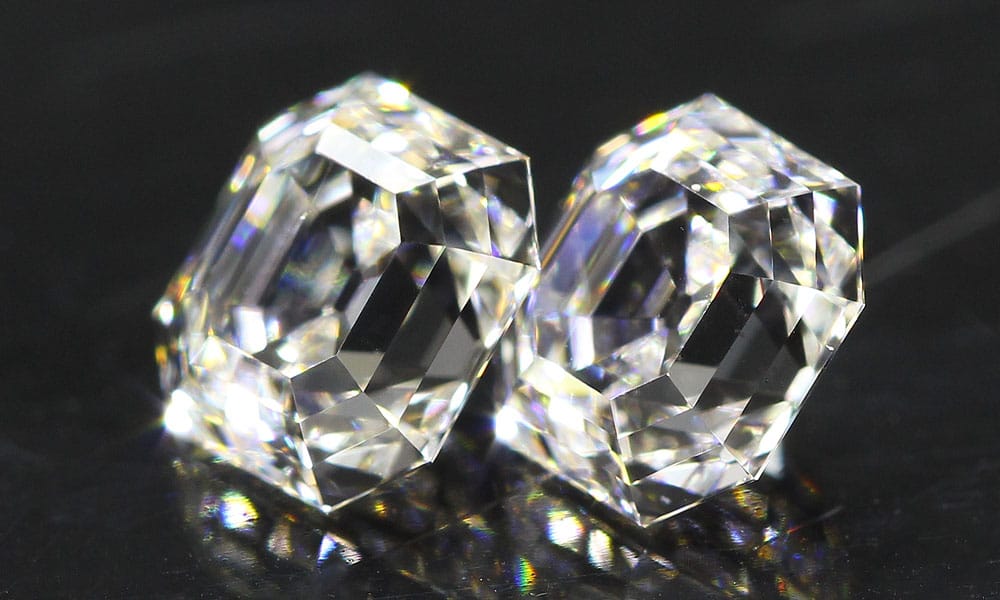 Our motto is to bring to market beautiful, unique and specialty cuts. Our Gem descriptions firstly try to let you envision the beauty of the Gem and its attributes.
On non-Laboratory graded Diamonds we try to relay our grading estimations as realistic as we can, any client who wishes to have the Diamonds graded by GIA Laboratories we will be happy to submit for grading.
We are aware that gemological information is important to our clients so we offer grading reports as a supplement only. We do not guarantee any of its gemological conclusions or grading.
Our grading findings:
Total weight (pair): 0.729 carat
Shape: slightly rectangular Emerald Cut.
Dimensions: 4.17 x 3.87mm. (Average).
Color: F-G
Clarity: VS/beautiful SI1
Ratio: 1: 1.08