Two Uniquely Cut, Shaped and Colored Old Mine Pear Diamonds
Featuring a pair of elongated cut Old Mine Pear Diamonds.
Although they resemble each other and could easily be presented as a pair, each one of these Old Mine Pears offer a different visual taste but a unique blend which work well together.
One Diamond, a bit more curved in shape and displays a pure canary yellow color while the other Diamond has a sleeker shape displaying a greenish-yellow color. Both Diamonds were cut to exhibit the look and feel of antique Old Mine Pears.
Cut to old-day traditions, both Diamonds were cut by a single cutter which followed the shape dictated by the original rough Diamond, just like they were executed in the old days, no innovative technology was used. Each rough Diamond brought its own natural limitations which needed to be tackled on the polishing wheel.
Their super elongated ratios (1:2) which gives them the unique look while keeping the "old look and feel" thanks to their faceting design and proportions.
The canary yellow still possesses a natural mark on the crown which was purposely left by the cutter in order to allow resemblance, and also the reason we graded it an SI.
Each of the Diamonds can be sold separately as well.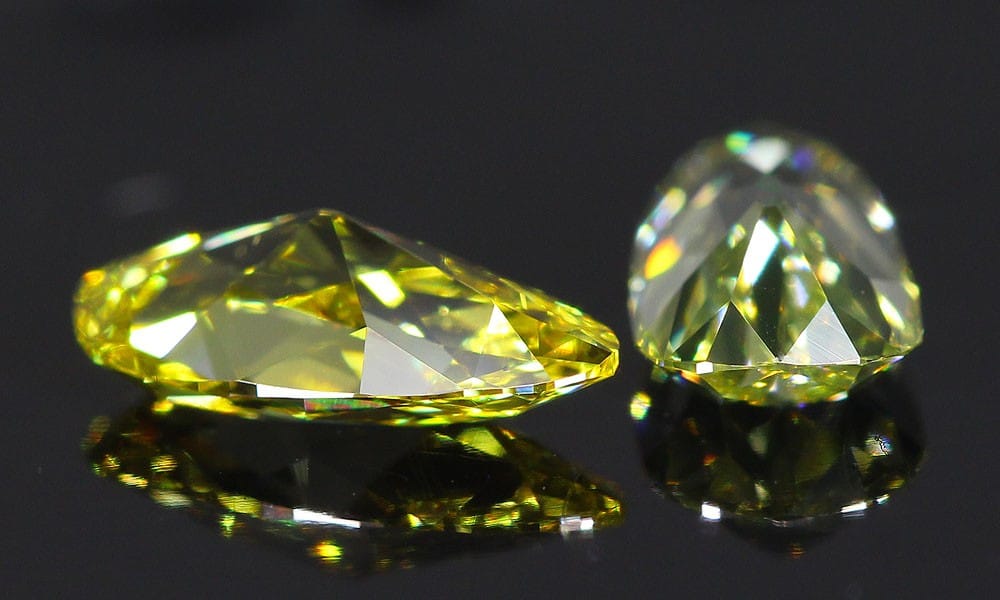 Our motto is to bring to market beautiful, unique and specialty cuts. Our Gem descriptions firstly try to let you envision the beauty of the Gem and its attributes.
On non-Laboratory graded Diamonds we try to relay our grading estimations as realistic as we can, any client who wishes to have the Diamonds graded by GIA Laboratories we will be happy to submit for grading.
We are aware that gemological information is important to our clients so we offer grading reports as a supplement only. We do not guarantee any of its gemological conclusions or grading.

Our grading findings:
Weight: 0.553 carat
Shape: Old Mine Pear
Dimensions: 7.85x 4.00 x 2.63 mm.
Color: Fancy Intense Yellow
Clarity: SI (based on an indented natural left on the crown head area)
Weight: 0.553 carat
Shape: Old Mine Pear
Dimensions: 7.80 x 3.85 x 2.53 mm.
Color: Fancy Greenish – Yellow
Clarity: SI
Total Weight – 1.106 carats