An exclusive line of miniature Peruzzi Diamonds™
These small Peruzzi Diamonds™ are an innovative recreation of the first recorded brilliant design developed by 17th. century Venetian lapidary Vincenzo Peruzzi. They were cut to a delicate slightly curved shape with pointed corners.
While utilizing present technologies available we had the pleasure to re-design such a unique & classic brilliant shape by adding our own three dimensional proportions formula in order to achieve the "old world" play-of-light these unique cuts offer.
Offering these rare cuts for the first time in such small colorless 0.15 carat sizes. Their diameters range between 3.00-2.90mm and their crystals are beautiful transparent and usually inclusion-free.
Each Peruzzi Diamond™ offers the unique three dimensional view caused by its significantly higher crown balanced with its small table, a speciality derived from historic Diamond cuts. Each Diamond possesses a medium/large open culet reflecting the Kozibe optical effect that adds the characteristics of the old world Diamonds.
Its sleek shape will with no doubt create a unique and different look in today's square cut option offerings.
We are offering 21 matching Diamonds which are sufficient for one full eternity band but are not limited to and can offer great alternatives to other jewel designs.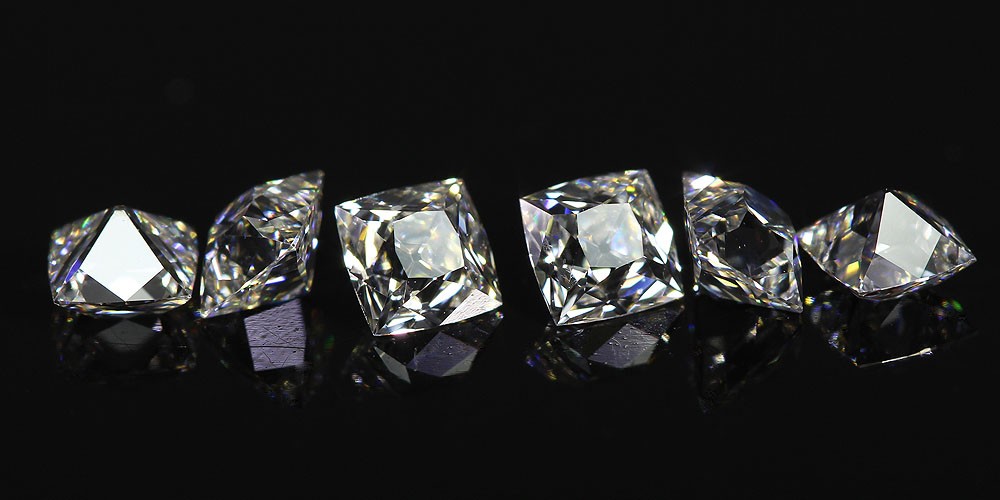 Our motto is to bring to market beautiful, unique and specialty cuts. Our Gem descriptions firstly try to let you envision the beauty of the Gem and its attributes.
On non-Laboratory graded Diamonds we try to relay our grading estimations as realistic as we can, any client who wishes to have the Diamonds graded by GIA Laboratories we will be happy to submit for grading.
We are aware that gemological information is important to our clients so we offer grading reports as a supplement only. We do not guarantee any of its gemological conclusions or grading.

Our gemological findings for the lot:
Diamonds available in this lot: 21 14 
Weight: 3.12 2.08 carats total (approximately 0.15 carats per stone)
Shape: Square Cushion Brilliant
Dimensions: 3.00 – 2.90mm.
Color: F-G-H range.
Clarity: VS2 and higher.