Double Decked Old Mine Cut Diamond
This unique Old Mine Cut Diamond from our signature collection is being offered to the public for the very first time. This Old Mine Cut Diamond was designed and planned to achieve a distinct play of light. It was designed to an "old world" cushion cut faceting which originated in the first half of the 17th Century. This cut possesses a few more uniquely placed facets than a standard 58 facet brilliant.
It's four main crown facets are split into two creating an optical illusion by adding virtual facets to the Maltese Cross pavilion visual (as seen through the table). These virtual facets further divide the large flashes created by the Maltese Cross into two causing smaller and quicker optical flashing events. These effects are created by the three dimensional optical precision of this special cut.
The original inspiration came from the famous Tiffany Yellow Diamond. A 128 carat 19th Century masterpiece which was cut to such faceting design both on the Crown and Pavilion.
The crystal of this Diamond would with no doubt earn the Historical term of "first water" for its colorlessness, transparency and glow. Really superb material.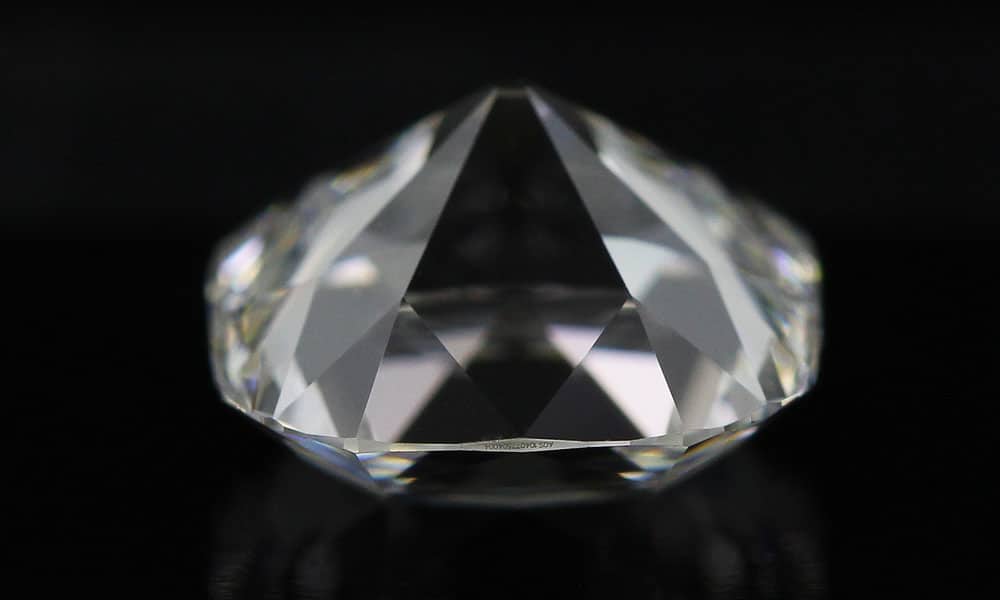 Our motto is to bring to market beautiful, unique and specialty cuts. Our Gem descriptions attempt to let you envision the beauty of the Gem and its attributes. We are aware that gemological information is important to our clients so we offer grading reports as a supplement only.
We do not guarantee any of its gemological conclusions or grading.
AGS Laboratories Gemological findings:
Report No: 104077504004
Weight: 1.061 carats
Shape: Cushion Brilliant
Dimensions: 6.13x6.01x4.01mm
Cut Grade: AGS Ideal 0
Light Performance: AGS Ideal 0
Polish: AGS Ideal 0
Symmetry: AGS Ideal 0
Color: (E) AGS 0.5
Clarity: (VVS1) AGS 1
Price: 14,500 USD