Canary three stone Old Mine Cut suite
Featuring a unique and rare three stone natural colored Old Mine Cuts suite.
Centering a Canary yellow elongated Old Mine Cushion Diamond of three quarter carat flaked by a pair of 0.42 carat total weight Old Mine Pendeloque Diamonds of matching colors.
All three Diamonds in the suite were specifically cut to the old charm appearance and feel mimicking an old & lost art of fashioning Diamonds. Such Diamonds are cut to exhibit their true body color while keeping their main objective of beauty and play of light. Our fancy colored Diamonds are not cut to enhance face up color appearances as most modern cuts are presently. We don't compromise on beauty aspect of a gem.
The sleek and elegant Old Mine Cushion weighs 0.75 carat and measures a respectable 6.57 x 4.58 x 3.21mm. Flanking the center are a pair of "eggy" shaped Old Mine pears weighing 0.22 and 0.20 carats each and measuring an average of 4.40 x 3.40 x 2.10mm.
The rarity of such a suite is not only their individual cuts but mainly their matching colors and the right balance between the color depth & brightness. Such colors are no doubt considered the top of their class thus earning them the term "Canary", an historical term once used to describe such rare and splendid material.
Like all our cuts, this trio was also cut to proportions emphasizing their three dimensional optical effect which allows the viewer to enjoy its rare color from all directions. Different from generic fancy colored cuts which normally display a crushed ice appearance, these Diamonds display larger blocky flashes of light which Antique Cuts are known for.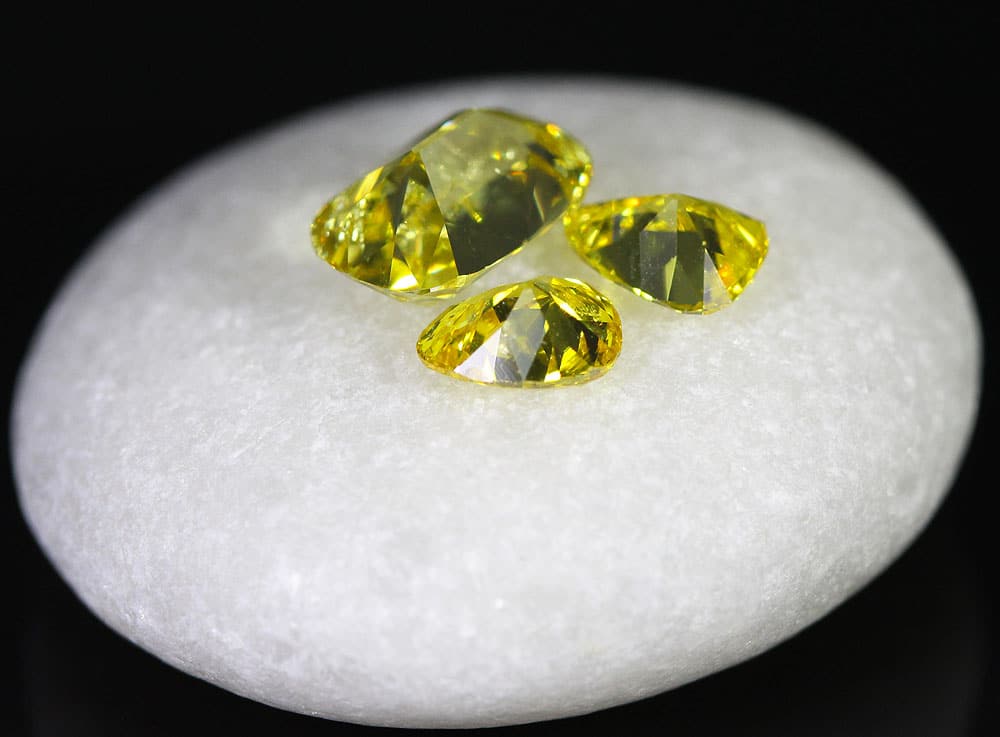 Our motto is to bring to market beautiful, unique and specialty cuts. Our Gem descriptions try to let you envision the beauty of the Gem and its attributes. We are aware that gemological information is important to our clients so we offer grading reports as a supplement only. We do not guarantee any of its gemological conclusions or grading.
Center:
GIA gemological findings:
Report No: 2141635921
Weight: 0.75 carat
Shape: Cushion Modified Brilliant
Dimensions: 6.57 x 4.58 x 3.21mm.
Origin: Natural
Color: Fancy Vivid Yellow
Distribution: Even
Clarity estimation (by GemConcepts): beautiful and smart I1 (no dark inclusions)
Sides
Report No: 1132524284
Weight: 0.22 carat
Shape: Modified Pear Brilliant
Dimensions: 4.42 x 3.41 x 2.15mm
Origin: Natural
Color: Fancy Vivid Yellow
Distribution: Even
Clarity: VS1
Report No: 2135524062
Weight: 0.20 carat
Shape: Modified Pear Brilliant
Dimensions: 4.39 x 3.43 x 1.98mm
Origin: Natural
Color: Fancy Vivid Yellow
Distribution: Even
Clarity estimation (by GemConcepts): I1 (no dark inclusions)
Total Weight for the suite: 1.17 carat