Vintage Emerald Cut Diamond
A few days ago I joined a discussion that was ongoing between a few colleagues in the Diamond Exchange. One was suggesting to another how to recut an old Emerald Cut into a modern albeit more elongated Emerald Cut.
I asked if I could see the Diamond they were discussing. Once holding this gem in my hands, I knew I needed to persuade its owner from re-cutting such a beautiful old Emerald Cut. I purchased it and decided to offer it here for sale.
This estimated circa 1910-1930 — 4.40 carat vintage Emerald Cut was cut to a superb step-cut faceting design while keeping to its true contour and shape which popularized the Art Deco era. The step facets were cut & polished to correct facet proportions and configuration which even in present day is hard to locate.
This Diamond displays a very bright appearance while it emits beautiful large elongated flashes when in motion. As was popular in the Art-Deco era, its elegant shape consists of a 1:1.17 ratio, wider than usual corner breaks, small culet (Kozibe) and a higher crown height which completes the look and feel of the era.
Measuring 10.11 x 8.65mm. GIA graded the color as an "J" and its clarity as a VS1.
A beautiful overall combination for such a large vintage Emerald Cut.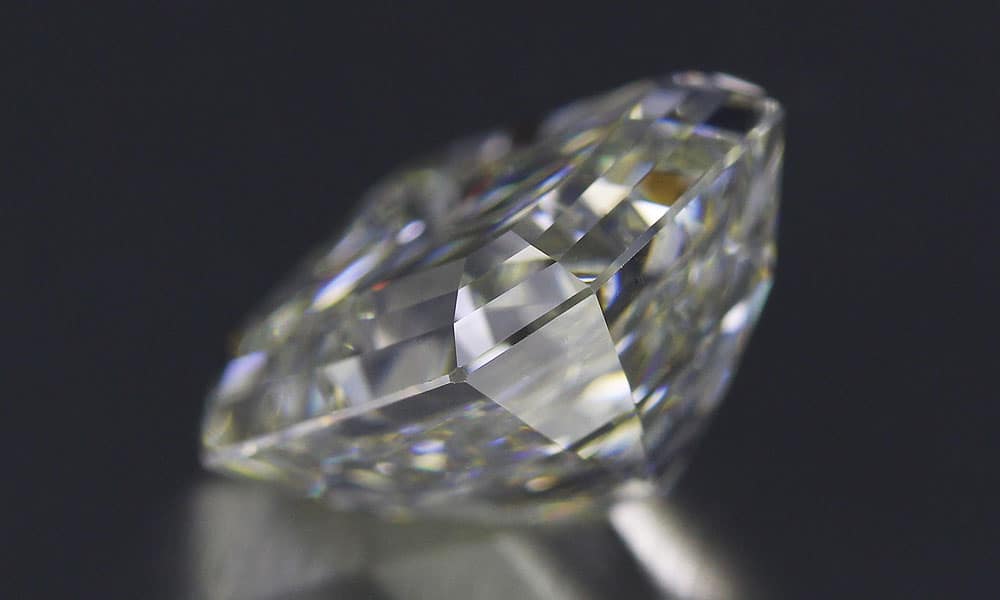 Our motto is to bring to market beautiful, unique and speciality cuts. Our Gem descriptions attempt to let you envision the beauty of the Gem and its attributes. We are aware that gemological information is important to our clients so we offer grading reports as a supplement only.
We do not guarantee any of its gemological conclusions or grading.
GIA Laboratory Gemological Findings:
Report No: 5192045649
Weight: 4.40 carats
Shape: Emerald Cut
Dimensions: 10.11x8.65x5.89mm.
Color: J
Clarity: VS1