Pair of Asscher Cut Diamonds
A rare and beautifully cut pair of Asscher Cut Diamonds weighing each respectively 0.88 & 0.87 carat each. This pair possesses our unique vintage faceting & proportions similar to the larger important Asscher Cuts which were cut back in the Art-Deco heyday's when geometry design was at a rage. Visually you will recognize immediately the higher than usual crown combined with a small table, proportionally wider step facets and corner breaks which are partly responsible for the old charm patina & character.
Measuring 5.39x5.36 & 5.36x5.35mm It's facet design and proportions intensifies the endless "hall of mirrors" geometric design the era was famous for. A different and unique appearance compared to visuals current modern Asscher Cuts offer. If this pair was graded in the old days, no doubt it would earn the grade of "first water" for its high transparency crystal.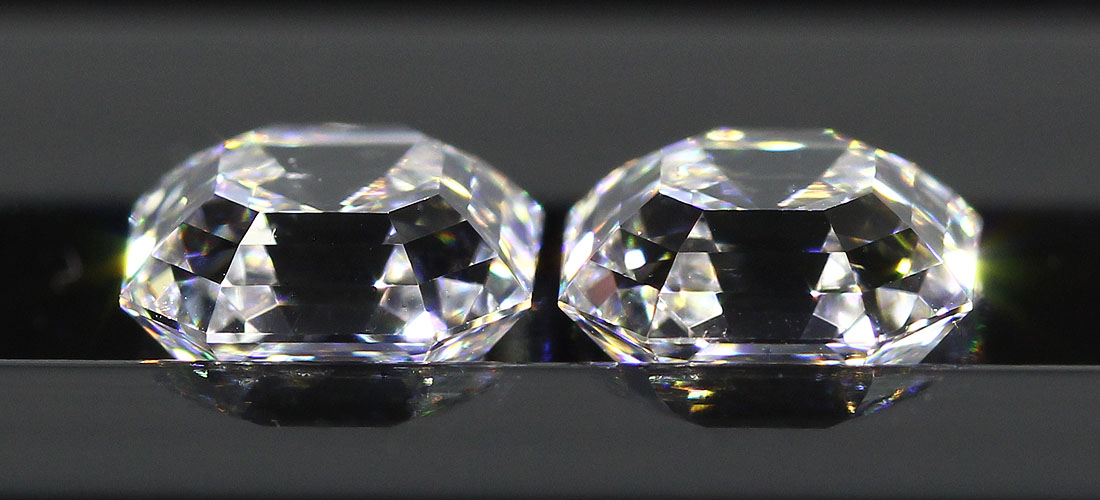 Our motto is to bring to market beautiful, unique and specialty cuts. Our Gem descriptions try to let you envision the beauty of the Gem and its attributes. We are aware that gemological information is important to our clients so we offer grading reports as a supplement only. We do not guarantee any of its gemological conclusions or grading.
GIA gemological findings:
Report no: 2264282471
Weight: 0.88 carat
Shape: Cut Cornered Square Step Cut
Dimensions: 5.36 x 5.35 x 3.79mm.
Color: D
Clarity: VS1
Report no: 1269282491
Weight: 0.87 carat
Shape: Cut Cornered Square Step Cut
Dimensions: 5.39 x 5.36 x 3.83mm.
Color: E
Clarity: VVS2