A unique three stone Asscher Cut ensemble
A unique three stone Diamond ensemble centering a beautiful Argyle brown Asscher Cut Diamond. Designed and cut to display the old feel and look of the Asscher Cuts which were cut in beginning of the 20th. Century.
The Diamond was designed and cut to proportions favoring such and similar colors as the step facets are responsible for the splitting of the light returning to its viewer. This Asscher Cut displays a mix of peachy/orangey colored flashes which Argyle browns can be potentially known for in most lighting environments . The play-of-light is pleasantly surprising as it displays differently in various lighting environments. A real Chameleon (not in gemological terms).
As you can see in the following pictures, the Diamond features a higher than usual crown combined with a small table and large corner breaks which intensifies the Art Deco look of the period such cuts were popular. Like most of our Diamond cuts, it has an open culet displaying the optical phenomenon called "kozibe", a reflective display of the culet surrounding the crown area.
This Diamond weighs 1.52 carats respectively and we graded its clarity as a VS.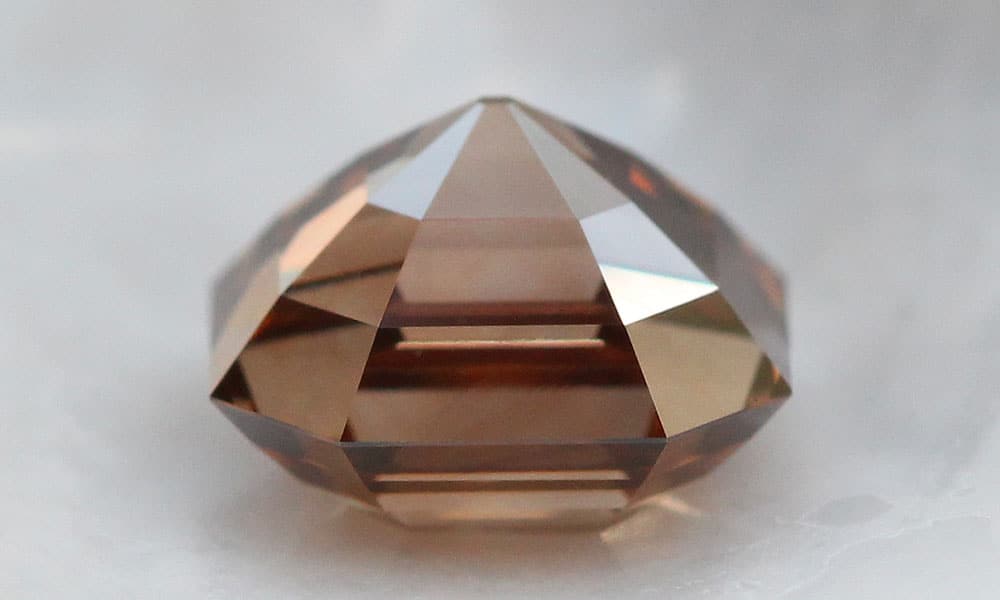 The Argyle center is flanked by a near-colorless matching Asscher Cut pair complimenting the center Diamond's vintage cut with the same attributes. They weigh a combined total of 0.944 carat and in our opinion work proportionally wonderful as side stones for that center. They were graded by us as near-colorless (approx "H-I" color) and VS/SI in clarity. Reflecting the center Diamond, this pair also feature a high crown, small table, wider corner breaks and a Kozibe effect.
Our motto is to bring to market beautiful, unique and specialty cuts. Our Gem descriptions firstly try to let you envision the beauty of the Gem and its attributes.
On non-Laboratory graded Diamonds we try to relay our grading estimations as realistic as we can, any client who wishes to have the Diamonds graded by GIA Laboratories we will be happy to submit for grading.
We are aware that gemological information is important to our clients so we offer grading reports as a supplement only.
We do not guarantee any of its gemological conclusions or grading.
Our gemological findings:
Center:
Weight: 1.52 carat
Shape: Square Emerald Cut
Dimensions: 6.52 x 6.45mm.
Color: Fancy brown with orangey undertones.
Clarity: VS+
Side Diamonds:
Weight: 2 Diamonds, 0.944 carat combined total.
Shape: Square Emerald Cut
Dimensions: 4.50x4.30mm.
Color: H-I
Clarity: VS-SI
Total weight: 2.46 carats.