A 7 Stone Vintage Asscher Cut Style Diamond line
Offering a unique layout consisting of seven matching GemConcepts designed & created Vintage Asscher Cut Diamonds. This layout is *versatile and can be purchased in any other preferable combination like pairs, singles and/or other possible combination.
A rare and beautifully cut layout consisting of seven colorless Vintage Asscher Cut Diamonds weighing a total weight of 1.70 carats. Each designed & cut to vintage style faceting & proportions as were larger important Asscher Cuts back in the earlier part of the 20th Century, mainly around the Art-Deco era when geometry design was at an all time rage.
Noticeable are their higher crowns in conjunction with their small tables, wider step-facets and corners which are responsible for their "old charm" feel & character. Each Diamond also consists of an open (albeit polished) culet creating the kozibe optical effect such early cuts were famous for.
These quarter carat Vintage Asscher Cut Diamonds have presence for their weight, measuring respectively between 3.50 & 3.45mm. each, their faceting design and proportions intensify the "hall of mirrors" geometric design the Art Deco era was known for. A complete & different look to what current modern Asscher Cuts offer.
Each one of these Asscher Cut Diamonds allows a joyful visual of what we call "the sculptured effect", a feature which not only allows an internal play-of-light from within the Diamond but also external facet reflections caused by its three dimensional proportions and wider step-facet arrangement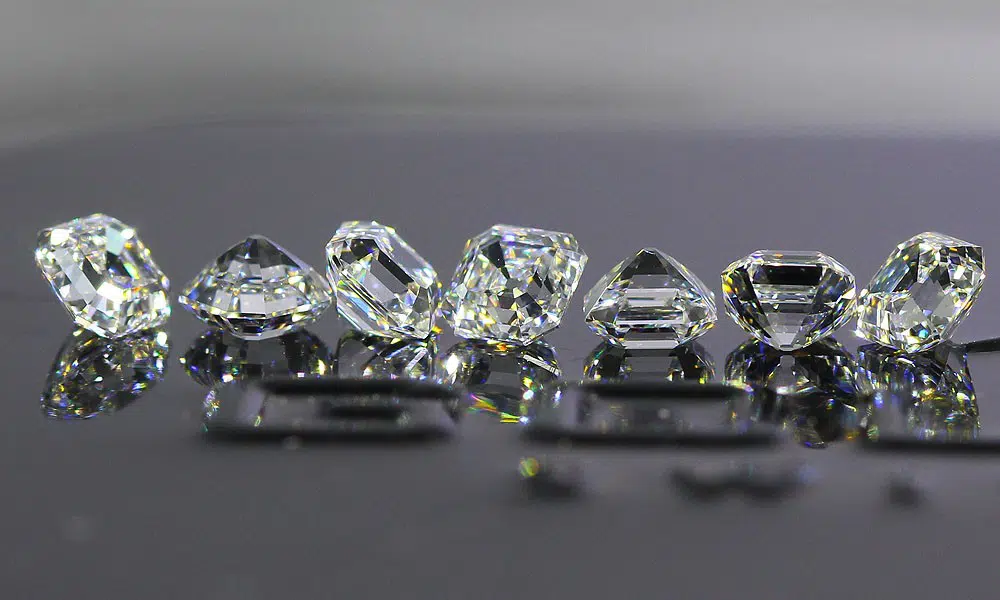 Our motto is to bring to market beautiful, unique and specialty cuts. Our Gem descriptions firstly try to let you envision the beauty of the Gem and its attributes.
On non-Laboratory graded Diamonds we try to relay our grading estimations as realistic as we can, any client who wishes to have the Diamonds graded by GIA Laboratories we will be happy to submit for grading.
We are aware that gemological information is important to our clients so we offer grading reports as a supplement only.
We do not guarantee any of its gemological conclusions or grading.
Our gemological findings for this layout:
Weight: 1.704 carats total (approximately 0.243 carats per stone.)
Shape: Square Emerald Cut
Dimensions: 3.50 to 3.45mm. range
Color: F-G range
Clarity: VS
*In case more matching Diamonds are needed, such can be cut to order